REINCARNATION, quoting Dr. Dahesh.
Reincarnation
This article appeared in Al-Osboo' Al-Arabi Magazine (Arabic week magazine), issue 279, December 12, 1964.
Our discussion about Daheshist philosophy and its views on reincarnation will also show that early Christianity does believe in reincarnation.
Reincarnation in Hinduism
Indians are known for their interest in spiritual studies, where the belief in reincarnation being one of the most notable spiritual or religious component. The Hindu version of reincarnation does not vary significantly from the general theory that Pythagoras and Plato talked about, where it is possible to reincarnate in a human or animal body and that the soul is a prisoner of the body and looks for an escape.
A clear phrase is written about this subject in the Gita, the Hindu Sacred Text: "Krishna urges Arjuna not to be saddened by the dead and says that death is not the end. The individual changes, however, the essence is immortal--even if it reaches perfection. The identity remains regardless of the continued destruction of the human body. The essence of the identity maintains its existence and takes on different forms. Death is nothing but a change in the external physical form. If the body dies, another new body takes its place and the new life is dependent upon whatever the individual has earned in his past life and past experiences. We can be born in lofty worlds, as human beings on Earth, or in the animal world, in accordance to the moral constitution that we have built. Values are maintained and reincarnation continues generation after another until we reach our target." Buddhism shares with Hinduism, to a certain extent, its belief in reincarnation.
Reincarnation in Daheshism
Dr. Dahesh says: It has become a reality that the world is not just the globe that we live on. Our world is made out of millions, if not billions of planets, where some are many times larger than the earth that we live on its surface. It is reasonable, if not certain that there are intelligent living entities on worlds other than Earth. It is also probable that some of these living entities are more intelligent than human beings. If we are to consider the notion that human beings will end up going after death to either Heaven or Hell, depending on their deeds, then in essence we have denied the existence of Divine Mercy. The proof to what I am saying requires a simple arithmetic operation: If the average life of an individual is 70 years, then half of this life is used up in sleeping and another significant portion is used up in childhood, sickness, and eating. If you subtract from that the amount used up in working, it leaves about 10 years that can be dedicated to the individual himself. If this individual is a control freak, dissolute, dipsomaniac—as many individuals are, then he will not be able to get rid of these improprieties and sins and as a result, his fate is hell. In this fashion, Divine Mercy is nonexistent. This is where reincarnation comes in as an act of Divine Mercy. If the soul is unable to rid itself from all of its improprieties in the first cycle, it will be given a chance to do it in the next cycles and up to 6000 cycles.
During these life cycles, the soul is capable of ridding itself from its imperfections and to ascend to loftier-than-earth worlds, where the Universal Soul, which is the source of all souls, awaits. As to the souls remaining on earth, they are nothing but shadows to the Universal Soul. In other words, the real Soul is beyond the body and exists in loftier worlds. As long as the individual continues to lie and commit evil, it is an indicator that the Spirit (or Universal Soul) is beyond the body, because the Spirit is pure and does not accept such improprieties. In the loftier worlds there are other temptations to the soul and could be different from sexual temptation, alcohol, and drugs. Reincarnation then is a fact and a reality. It is an act of Divine Mercy.
Dr. Dahesh says that Christianity calls for reincarnation and refers to what is mentioned in the Bible as a proof: when the Disciples asked Christ about the prophecy calling for the return of Elijah before his coming, he answered them by saying: "...Elijah is indeed coming first," answers Jesus, "and he will get everything ready. But I tell you that Elijah has already come and people did not recognize him, but treated him just as they pleased. In the same way they will also mistreat the Son of Man." Then the disciples understood that he was talking to them about John the Baptist. (Matthew 17:11-13).
Dr. Dahesh continued with his Biblical reference: "According to the custom followed by the priests, Zechariah was chosen by lot to burn incense on the alter. So he went into the Temple of the Lord while the crowd of people outside prayed during the hour when the incense was burned. An angel of the Lord appeared to him, standing at the right side of the altar where the incense was burned. When Zechariah saw him, he was alarmed and felt afraid. But the angel said to him, "Don't be afraid, Zachariah! God has heard your prayer, and your wife Elizabeth will bear you a son. You are to name him John. How glad and happy you will be, and how happy many others will be when he is born! He will be a great man in the Lord's sight. He must not drink any wine or strong drink. From his very birth he will be filled with the Holy Spirit, and he will bring back many of the people of Israel to the Lord their God. He will go ahead of the Lord, strong and mighty like the prophet Elijah. He will bring fathers and children together again; he will turn disobedient people back to the way of thinking of the righteous; he will get the Lord's people ready for him." (Luke 1:9-17). Dr. Dahesh said: If we reference Matthew 17:13, "Then the disciples understood that he was talking to them about John the Baptist." Dr. Dahesh concludes that all of this is an indicator that Christianity calls for reincarnation. Dr. Dahesh acknowledges reincarnation between human beings and animals just like all the other religions that calls for reincarnation, except the Druze.
Edgar Cayce's Reincarnation Views
Who Was Edgar Cayce?
Edgar Cayce was a clairvoyant and medical intuitive, who, beginning in 1901, discovered he was able to diagnose illnesses in other people while in a trance state, merely by knowing their first name and the city where they lived. He originally gave his readings in his office in Dayton, OH, with his wife and secretary present. This was to protect him from unscrupulous people who could later lie to him about what he said while in the trance state. Almost 90% of what Cayce diagnosed and predicted in later readings has been proven true, and the records are all in the Association for Research and Enlightenment, or ARE, in Virginia Beach, VA, carefully watched over by the presence of his son, Hugh Lynn Cayce.
Psychic Edgar Cayce
An Evolving Soul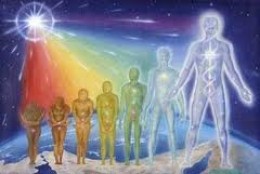 A Soul Travels Through Incarnations
 | 
Source
Cayce Reconciles Ideas about Reincarnation with Christianity
When Cayce was in a waking state, this business about reincarnation was very troubling to him, because he was a devout Christian, and reincarnation is not really a part of the belief system in the Christian Church. Or is it, and have people misinterpreted the meaning of many of the scriptures? Jesus said that to get into heaven, one must be as a child. He did tell his disciples that John the Baptist was a reincarnation of Elijah (Matthew17:12-13) when he indicated that "But I say to you that Elijah has come already, and they did not know him but did to him whatever they wished. Likewise the Son of Man is also about to suffer at their hands." They also asked Christ who was the sinner if a man was born blind, the man or his parents? In Revelations: 13-10, it says, "He that leads into captivity shall go into captivity, he that kills with the sword must be killed with the sword. Here is the patience and the faith of the Saints." Jesus talked of reaping what we had sown.
This gives us a clue that there is a law of moral retribution that operates from life to life. Christ also taught his disciples many things he did not preach to the multitudes. Plus the Bible has been translated so many times into so many languages, that it surely has some incorrect translations. If one studies the history of the early Christian Fathers, they have written fairly explicitly about their acceptance of reincarnation. Origen did in the early years of his life, Justin Martyr, St. Jerome, Clemens Alexandrinus, Plotinus and others. Maybe because they lived so close to the time Jesus was on Earth, they learned and taught teachings that the 12 disciples also learned in secret. Then these came down through the esoteric traditions since ancient times.
The essence of Christ's teachings in Matthew 22:37-39 were, "You shall love the Lord your God with all your heart, with all your soul, and with all your mind. This is the first and great commandment. And the second is like it. "You shall love your neighbor as yourself." How does this simple yet profound teaching conflict with the teachings of any of the World's great religions? It does not. "Hurt not others in ways that you yourself would find hurtful." Buddha had said. "This is the sum of duty: do naught unto others which would cause pain if done to you," is a teaching of the Hindu scriptures. Both Hinduism and Buddhism found no discrepancy between the law of love and the law of spiritual evolution called reincarnation.
stay tuned Brothers & Sisters, more to come....



__._,_.___
---
Posted by: thegate@buckeye-express.com
---
---
Have you tried the highest rated email app?
With 4.5 stars in iTunes, the Yahoo Mail app is the highest rated email app on the market. What are you waiting for? Now you can access all your inboxes (Gmail, Outlook, AOL and more) in one place. Never delete an email again with 1000GB of free cloud storage.
---